The U.S. is a nation of immigrants, yet immigrating to the U.S. is a complex process rife with challenges. Many immigrants, including children and families, need safety, shelter, transportation and legal counsel as they resettle and build their new lives.
An immigration social worker assists immigrants in accessing the resources they need to thrive and helps them navigate the immigration process. Immigration social workers also advocate for the well-being and safety of immigrants in transition so they can establish a stable, flourishing life in the U.S.
Social workers can further support immigrants by understanding the challenges they face in coming to the U.S., particularly in navigating the school, health and legal systems. This type of support is a cornerstone of the social work profession, and social workers should strive to learn more about how they can assist clients who have immigrated to the U.S.
Immigrant Communities in the U.S.
Immigrants are individuals who don't have U.S. citizenship at birth, as defined by the Migration Policy Institute. This group includes the following:
Refugees and asylees
Naturalized citizens
Lawful permanent residents
Unauthorized immigrants
People in the U.S. with temporary visas
Pew Research Center reported that the U.S. had more immigrants than any other country in 2020 — at least 40 million, or around 13.7 percent of the entire population. About 20 percent of all immigrants in the world currently live in the U.S., according to the Pew Research Center report; that's a significant percentage, given that the U.S. only accounts for around 4 percent of the global population.
Additionally, Pew reported that the top five countries of birth among U.S. immigrants were:
Mexico: 25 percent
China (including Macau, Hong Kong, Taiwan and Mongolia): 6 percent
India: 6 percent
Philippines: 4 percent
El Salvador: 3 percent
Clearly, the population of immigrants in the U.S. is highly diverse, with many different experiences, challenges and dreams. No singular "immigration story" exists. Many immigrant households are comprised of mixed-status families, meaning that some family members have access to publicly funded services, while other family members do not. Immigration social workers must be ready to learn the story of each individual and family they support to guide them to the appropriate resources.
Worth noting is that in 2020 and 2021, the U.S. Census Bureau experienced significant challenges in collecting data on immigrants due to the COVID-19 pandemic, according to the Migration Policy Institute. Current data on the sociodemographic and economic characteristics of immigrants primarily comes from non-Census sources from 2019 and earlier.
While the precise number of immigrants living in the U.S. at any given time is difficult to ascertain, immigrant communities are indispensable to life and work in the nation. The American Immigration Council, for example, found that immigrants paid $330.7 billion in federal taxes and $161.7 billion in combined state and local taxes in 2019.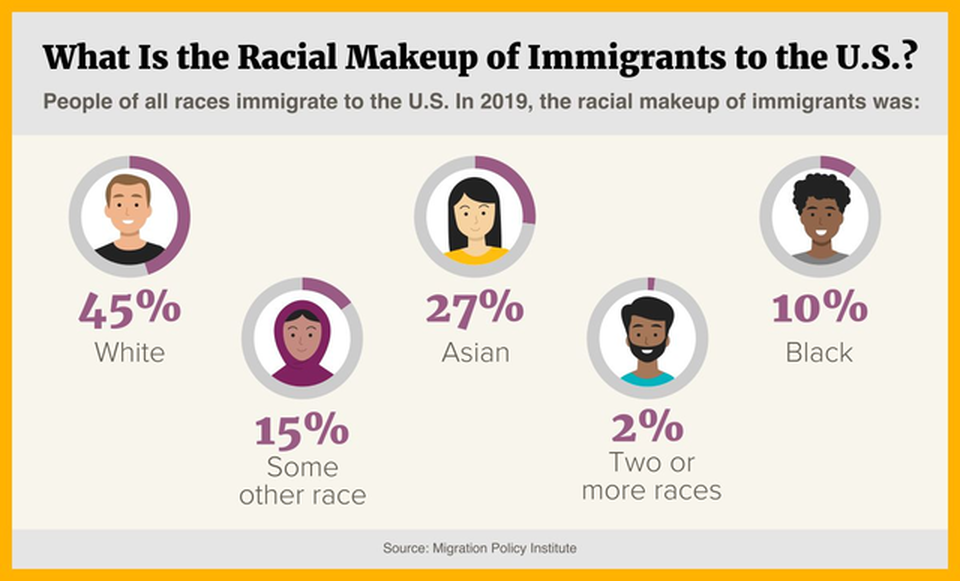 The racial makeup of immigrants to the U.S. in 2019 was 45 percent white, 27 percent Asian, 10 percent Black, 2 percent two or more races, and 15 percent some other race.
Immigration Challenges In America
Social workers strive to help immigrants overcome the many obstacles they face. Consider just a few immigration challenges in America today.
Immigration can be a traumatic experience that takes a toll on the emotional and psychological well-being of immigrants as they uproot their lives. The American Psychological Association notes that immigration policy debates often overlook the personal and communal challenges of immigration, including the following:
Premigration stressors due to family separation, social exclusion, limited employment opportunities, civil war or chronic poverty
Feelings of loss, sadness, grief and loneliness due to family separation and language difficulties
Culture shock and stress stemming from the acculturation process: the dynamic process of adapting to a new culture by behavioral and psychological adjustment
Additionally, immigrants may experience environmental, economic and sociopolitical challenges in the process of adjusting to life in the U.S. According to Hyojin Im, an associate professor of social work at Virginia Commonwealth University, immigrants encounter many different structural barriers during the immigration process, often simultaneously. In her 2020 article published in The Journal of Contemporary Social Services, Im explained that such challenges include the following:
Limited material resources and property
Legal challenges
Barriers to health care
Barriers to education
Unstable housing
Fragmented or limited social support systems due to high mobility
Barriers to social services due to a lack of translators
Xenophobia, stigma, discrimination and marginalization
Challenges Undocumented Immigrants Face
The Brookings Institution estimated that, in 2019, anywhere from 10.5 million to 12 million undocumented immigrants were living in the U.S. (3.2 to 3.6 percent of the population). Because of their precarious legal status, undocumented immigrants are especially vulnerable to acute stressors, including the following:
Toxic stress
Anxiety related to the threat of deportation
Limited access to health care and legal aid
Resilience Strategies for Immigrants
Many immigrants are resilient in the face of the various challenges and stresses associated with the immigration process, and social workers can help immigrants develop different strategies and increase access to resources that can help them cope with and overcome these hurdles.
Resilience involves individual and interpersonal coping skills that help a person or community persevere despite adversity. Individuals can be resilient and so can family units and communities. The success factors that contribute to resilience and the ability to overcome challenges in the immigration journey include the following:
Healthy ways to deal with stress (the physical and emotional response to threatening stimuli) caused by immigration stressors (the stimuli that can make immigration threatening or challenging for individuals and communities, such as long wait times, confusing immigration policies and inadequate language translation services)
Social support in the form of communities of care that provide ongoing, structured support
Critical thinking skills, or the ability to problem-solve and choose among different options for action
A clear sense of meaning, or an internal sense of purpose, that may become a source of strength and reorientation during difficult times
Social Work and Immigration Policies
In any discussion of the relationship between social work and immigration, it's crucial to examine the ways that immigration policy reform can ease the burden on the communities that immigration social workers strive to support.
The National Association of Social Workers (NASW) encourages social workers to pursue ongoing education related to immigration policy and to advocate for change.
Social workers can help positively influence immigration policy by advocating for changes such as:
Establishing humane detention practices
Protecting undocumented people who came to the U.S. under the Deferred Action for Childhood Arrivals program, those with Temporary Protected Status, and those who are classified as Deferred Enforced Departure
Expanding health care services for immigrants, including mental health care
Increasing support for immigration services providers
Establishing immigration policies that keep families together and that reunite families separated by detainment and deportation
Such immigration policy changes may mitigate and address some of the challenges that immigrants face. For example, NASW supported and endorsed the U.S. Citizenship Act of 2021, which included provisions to fast-track a path to citizenship for certain undocumented immigrants. NASW also officially condemned federal removal raids by U.S. Immigration and Customs Enforcement (ICE) in 2019.
Defining Immigration Social Work
NASW explains that social workers can further support immigrants by helping them access "immigration assistance and services to ensure their safety, permanency and well-being."
Safety refers to adequate housing; access to clean water and nutritious food; access to health care; and dwelling in an unpolluted living environment free of health hazards.
Permanency refers to the stability of these same resources — how frequently and consistently individual immigrants and communities of immigrants can access basic resources like food, water, housing and health care. Permanence may also refer to other resources necessary for full participation in society such as access to education, banking, legal support and social services.
Well-being refers to the overall condition of communities of immigrants and the individuals who make up these communities.
From health care to housing, immigrants often need assistance in a wide range of areas to more easily acclimate to life in the U.S. Because of this, the need for social workers who support immigrants is great, particularly in the following disciplines:
Health care social work
Child welfare social work
International social work
Mental health and clinical social work
Justice and corrections social work
Occupational and employee assistance social work
Training for Immigration Social Workers
Though the NASW does not designate "immigration social work" as a separate specialty, social workers and those training to become social workers can take certain steps to prepare themselves for a role supporting immigrants.
Social workers who want to work with a specific immigrant population should think about developing the skills and competencies to best support this target group. Here are some tips for preparing to become an immigration social worker:
Learn a second or third language
Conduct fieldwork in settings that serve immigrant populations, such as community health centers, hospitals, bicultural centers and human rights organizations
Increase cultural competency by learning about the values and priorities of different communities of immigrants
Additionally, NASW recommends the following actions for social workers who want to get involved in protecting the rights of immigrants:
Work for and with established organizations with a proven history of immigrant advocacy to continue fostering relationships with immigrant communities. Working or volunteering at these organizations can also create opportunities to connect with other social workers and advocates who have experience supporting immigrants.
Educate oneself on the policy and legal issues related to immigration status. Access to health care, child welfare and many other crucial social services can be complicated by immigration status. Social workers must become competent in the challenges immigrants face to provide culturally competent support.
Volunteer as an interpreter for immigrants. Licensed social workers who have fluency in another language can be especially helpful for immigrants who are being detained.
What Do Social Workers Do for Immigrants?
Social workers can support immigrant families, adults, children and communities in numerous ways, including the following:
Providing mental health resources
Advocating for immigrant students in schools
Supporting job and career development programs
Enabling access to health care resources, including medical translators
Providing support for immigrants navigating the legal system
Additionally, NASW advises that social workers become advocates for change. Through partnerships with government organizations, nonprofits and groups that specifically represent immigrants, social workers can propose and contribute to the development of policy reform that supports immigrants. NASW also offers several suggestions for ways social workers can provide guidance to individuals at risk of an ICE raid, such as:
Providing know-your-rights information so that individuals and families can prepare for speaking to officers
Providing information to families about immigration policy changes, such as the "protected areas" policy from the U.S. Department of Homeland Security that prevents immigration agents from conducting enforcement actions on playgrounds, recreation centers, disaster relief centers and other places where children gather
Empowering people to access resources that explain their legal options and opportunities
Helping families develop a family preparedness plan in case of a raid or deportation threat
Advising people about when and how to contact immigration services providers
Resources for Social Workers to Support Immigrants
Social workers can access numerous resources to provide support to immigrants, including: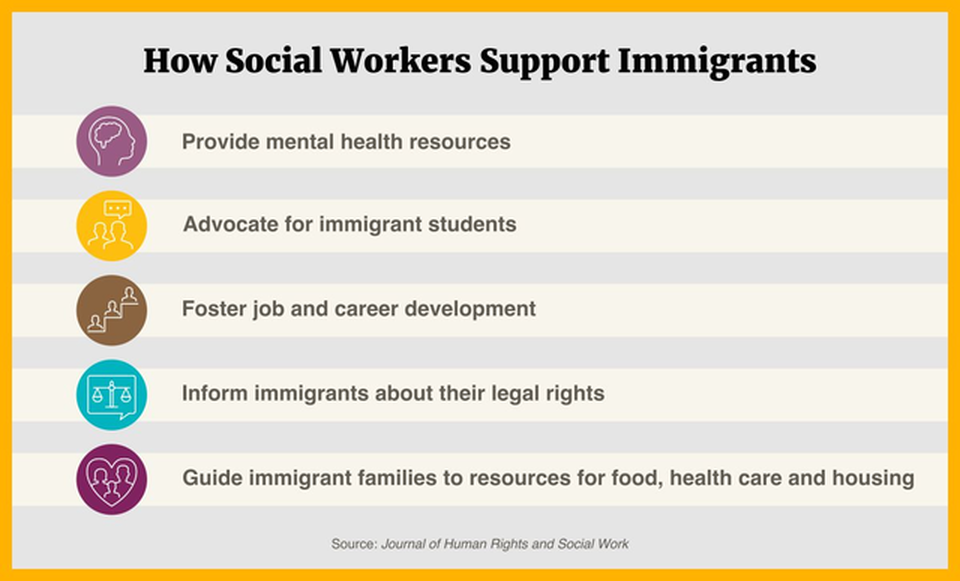 Social workers support immigrants by providing mental health resources, advocating for immigrant students, fostering job and career development, informing them about their legal rights, and guiding immigrant families to resources for food, health care and housing.
Supporting Immigrants Through Social Work
Social workers are a critical source of support and advocacy for the nation's immigrant population. By helping them navigate the education, health care and legal systems, find employment, and advancing improvements to immigration policy, social workers can help immigrants on their journey to build a new life.